Bolto Reserve Camping - Bolto SA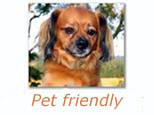 Bolto Reserve is located in Khartoum Road, Bolto SA. Bolto is 112km west of Adelaide SA. The trip takes approximately 1 hour and 23 minutes, although slower if you are towing a heavy van or large rig.
The Reserve will take the largest rigs and there does not appear to be a time limit. There are some nice spots on the bank of the river, several sandy, shallow, and safe for swimming. Lots of nice shady spots for camping. Keep the area clean as the local Council also makes an effort to ensure amenities are well maintained. Police and parks potrol for your security. Camping costs $10 a night through the purchase of a parking ticket. Please bring coins to pay for the parking. The location is pet friendly.
Photos and reviews on this page were kindly supplied by our roving reporter Darlene Collins in April 2016.
REGION: > SA > Adelaide > Adelaide Hills > Bolto
Photos contributed by our users