Beach Retreat Tourist Park - Wynyard TAS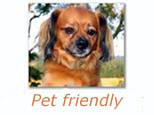 The Beach Retreat Tourist Park is located at 30B Old Bass Highway, Wynyard. The park is pet friendly. The park has 37 tourist sites and of these 22 are powered. Cottages are available for rent. The Resident Owners are Graeme and Cheryl Gilmore. Bookings can be made by telephoning the park on 03 6442-1998 and please tell the park that you have seen their photos on Caravan Park Photos.
Photos on this page were kindly supplied by our roving reporter Tess Cameron in April 2010.
Tess Cameron who supplied the photos on this page writes: "The Beach Retreat Tourist Park is located right on the beach in the lovely town of Wynyard on the northwest coast of Tasmania. This is absolute beachfront camping with the boardwalk into town going right past the park. The walk is only 10 minutes to the main supermarket and local shops.
The park has around 20 powered sites all with level concrete slabs to park your van/motorhome on. It is beautifully laid out with gardens surrounding some sites. Cabins are in a separate area from the vans and most of the van sites will accommodate long vans.
The amenities are not new but are spotlessly maintained and decorated with fresh flowers and lovely coloured glass curios. There is also a comfy seat and magazines for patrons to relax while waiting during the busy times.
The access road is due for some repairs and the BBQ area is adequate but could do with a bit of updating.
You could easily stay here as a base for the far north west and do your day trips around this fascinating area. Wynyard is host to the spring Tulip festival and the town seems covered in tulips.
I'd recommend this park for its peace and quiet and being able to sleep with the sound of the waves in the background."
REGION: > TAS > Tasmania > North West > Wynyard