Bushlands Tourist Park - Windeyer NSW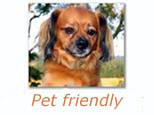 The
Bushlands Tourist Park
is located at
1987 Windeyer Road
Windeyer. The park has 44 tourist sites and all but 20 of these are powered. The park is pet friendly and has a store. Windeyer has some nice historical buildings worth exploring. Bookings can be made by
telephoning the park
and please tell the park that you have seen their information on Caravan Park Photos.
Photos on this page were kindly supplied by our roving reporter Harry Willey of Scone in February 2012.
Harry writes: "Windeyer, a farming area, was known as Richardson's Point when Gold was discovered in the area in 1851. It was gazetted as the village ofWindeyer in 1859.
During the Great Depression of the 1930s there was something of a revival as hopefuls picked over the old mullock heaps. The Eaglehawk mine operated as a working reef mine and tourist attraction until 1989, it is hoped with the high price of gold to reopen the Eaglehawk mine in the near future.
The area is noted for its superfine wool (in 1983 a local grazier received the highest price ever secured on the Australian mainland for a bale of wool). There is a school, two churches a hotel and a caravan park with tennis courts and a general store.
Bushlands Tourist Park, has a frontage to Long Creek and can be found next door to the century old Gold & Fleece Hotel. Clean and well kept by Ossie and Romey Kuebler the park has a general store, large recreation hall, camp kitchen, amenity block.
The six acre park has 70 powered and unpowered sites, with electric BBQs and open fire places, a free video and book library and excellent TV Reception.
A good, friendly and quite base to explore Mudgee, Hill End and the nearby Observatory. "
REGION: > NSW > Regional NSW > Central Tablelands > Windeyer
Photos contributed by our users