Tumby Bay Caravan Park - Tumby Bay SA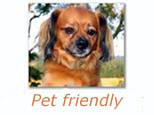 The Tumby Bay Caravan Park is located at Tumby Terrace, Tumby Bay. Tumby Bay (population 1,147) is a beautiful town situated on the western shores of Spencer Gulf. The town serves the surrounding agricultural community with a modern hospital, shopping and holiday facilities. The town caters for many sports including golf, tennis, sailing, shooting, basketball and croquet just to name a few.
The Tumby Bay Caravan Park is situated right on the bay. The resident owners are Dianne and John James. The park is pet friendly. Bookings can be made by
telephoning the park
and please tell them that you have seen their photos on Caravan Park Photos.
REGION: > SA > Spencer Gulf > Eyre Peninsula > Tumby Bay