Golden Triangle Caravan Park - Tarnagulla VIC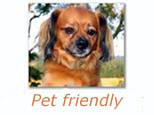 This caravan park has closed down. The photos are preserved online for historical purposes only.
The Golden Triangle Caravan Park was located at 6 Poverty Street, Tarnagulla. The park had 50 tourist sites and 35 of these were powered. A large number of permanents live in the park. The resident owner was Ian Ford. The park was pet friendly. The park adjoined a forest. Photos on this page were taken on the 9th September 2009.
REGION: > VIC > Northern Victoria > Bendigo > Tarnagulla