Heimat Chalets and Caravan Park - New Norfolk TAS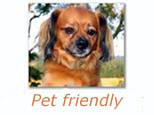 Heimat Chalets and Caravan Park offers visitors with motorhomes or caravans an exclusive powered site and your own private modern bathroom. Heimat is not a conventional caravan park, it has only two ensuite sites giving privacy in a most picturesque setting.
Two vans or motorhomes travelling together may book and share one site if desired.
Heimat is set among 40 hectares of farmland, which includes a redcurrant orchard. From here you can explore New Norfolk's historic buildings and colonial architecture. Visit the museum or market, buy succulent farm produce from the roadside or take a jet boat ride on the Derwent River. You can take the one-hour drive to Mount Field National Park to walk through tall forests, visit waterfalls and see Tasmania's native wildlife.
Bookings are essential at Heimat Chalets.
Rotate the Google Street View image below to see the location of the park. You can see street view in full screen by clicking the icon in the top right hand corner. Satellite view will also enable you to see the park within the context of the town. The green arrow marks the exact location of the site.
View Larger Map
REGION: > TAS > Tasmania > Central > New Norfolk
Contact and Location
Heimat Chalets and Caravan Park
430 Blackhills Rd - E
New Norfolk TAS 7140
P:
03 6261 2843
GPS:
-42.741322,147.034979
GPS:S42 44 28,E147 02 05
GPS:S42 44.4793,E147 02.0987