Great Lake Caravan Park - Miena TAS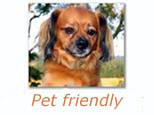 The Great Lake Caravan Park is located at 3096 Marlborough Highway Miena which is a 90 minutes drive from Hobart in the south and Launceston in the north.
The Great Lake is surrounded by hundreds of lakes. No matter how long you stay you need never fish in the same place twice, but you'll probably find a favourite spot. Next door the Great Lake Hotel has information about trout-fishing tours and guides, they also have boat hire and can supply fishing licenses.
After a days hard work on the lake shore or the river bank you'll come back to a roaring fire, a good hot meal and convivial company - I nearly had him - a good three feet long!
Bookings can be made by telephoning the park and please tell the park that you found them on Caravan Park Photos.
You can see satellite view in full screen by clicking the icon in the top right hand corner. Satellite view will also enable you to see the park within the context of the town. The green arrow marks the exact location of the site.
View Larger Map
REGION: > TAS > Tasmania > Central > Miena
Contact and Location
Great Lake Caravan Park
3096 Marlborough Hwy - S
Miena TAS 7030
P:
03 6259 8163
GPS:
-41.98035,146.677141
GPS:S41 58 49,E146 40 37
GPS:S41 58.821,E146 40.6285