Mataranka Cabins and Camping - Bitter Springs Mataranka NT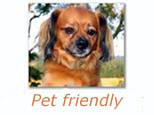 The
Mataranka Cabins and Camp Ground
is located at 255 Martin Road Mataranka. The park has 40 tourist sites and all but 10 of these are powered. The park is pet friendly. Resident owner is Bruce Ross. Bookings can be made by
telephoning the park
and please tell the park that you have seen their information on Caravan Park Photos.
Photos on this page were supplied by the Caravan Park in February 2010.
Phil and Clare write:
Today to give far comparison from my caravan report on Mataranka Homestead we travelled 7kms to the Mataranka Caravan & Cabin caravan park at Bitter Springs. And booked in for the night.This park is formally the original site of the Mataranka Homestead, as well as the WW2 site for the army Bren gun carrier repair base. Its current owner has just sold it and the new owners are in the process of arriving next week.The park is pet friendly and most sites are located on green well watered lawn and near well flourishing trees, the park has mostly all power & water sites with an area down the back for unpowered customers along side the river (Roper River).The amenities are individual separate toilets and shower cubicles and are well maintained, clean and plenty of hot water as well there is a laundry facility in the middle of these ablution areas. There is also a well fitted out Camp kitchen for everyone to use.At the reception area there is a small shop available but the site is only 3kms from town where you can find a supermarket, petrol station, post office and a variety of other small convenience stores. Many of the visitors used the local clear water spring 300mtrs down from the park (Bitter Springs).As advised earlier in my Mataranka Homestead report they also travel 12kms to the homestead and utilised their warm water spring then returned back to the camp. Although this park is $3 dearer its sites, cleanliness and well above that we found at Mataranka.However 1.5kms up the road is another well presented caravan park called the Territory Caravan Park which was full at the time and from a quick walk around appeared to be better in some aspect than both the two parks already mentioned.As I previously stated this is just simply my view, but I would strongly advise you give the entire three caravan the once over before you make a decision on which won you want to stay at. So you can fully enjoy your stay at this wonderful little town.
REGION: > NT > Northern Territory > Katherine > Bitter Springs Mataranka