Kioloa Beach Holiday Park - Kioloa Beach NSW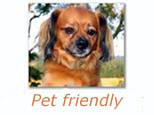 Kioloa is situated 267km south of Sydney near the Murramarang National Park. The park is located at 635 Murramarang Rd, Kioloa beside a magnificent surfing beach. The park has 217 tourist sites of which 134 are powered. Powered sites are scattered throughout the park mixed in with permanent vans. Some powered sites for tents and vans are located in close proximity to the beach. The park has an excellent swimming pool. The resident owner is Tony Van Bergen. Bookings can be made by
telephoning the park
and please tell the park that you have seen their photos on Caravan Park Photos.
As a child, my parents came across the park by mistake and took the family camping until 1994 when they bought a cabin. My brother and I made many friends and always had something to do. My parents, aunties and uncles enjoyed the sounds of the birds, the sound of the ocean. Just nature in general. Wonderful place. Would live there if it were possible. Jessica Harradence, Sydney NSW.
We have now stayed at Kioloa Beach Holiday Park four times and are looking forward to staying there again next week (Jan 09). It is well managed, clean, right on the beach (not even a road to cross) and dog friendly. Fishing from the beach can be good but nearby rocks is marginal. Beach is best suited for swimming rather than surfing as it protected by an island just offshore. It is also usually free from crowds. A great family place to stay. Christopher Stone, North Richmond NSW.
REGION: > NSW > South Coast > South Coast > Kioloa Beach