Prospector Holiday Park - Kalgoorlie WA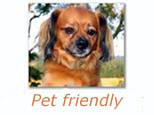 Prospector Holiday Park is located at Cnr Great Eastern Hwy - E & Ochiltree St - N , Kalgoorlie. The park describes itself as "a vibrant, fun place to be, referred to by Lonely Planet as "one of the best in WA and gets the thumbs up from us" It has everything you need for a comfortable stay with a variety of ensuite cabins to suit you and your family, well-maintained sites and camping grounds and quality facilities.
These include a sparkling swimming pool and a large campers' kitchen reknowned as an 'international' meeting place for guests. It is the hub of the social life of the park where you find out what is happening and pick up handy hints.
From the first welcome to check out, our staff are there to help you relax and enjoy your stay. To make your cabin holiday even better, there are electric blankets in winter, 51cm TV's and Video or DVD players in the family cabins. Camper's Kitchen , Swimming Pool , TV Lounge , Kiosk/LPG/Phone , Immaculate amenities and laundry , Free BBQ , Childrens Playground , Wireless Internet , Dump Point, Sullage , Tourist information Pets are welcome with site bookings only, and are not permitted in or around cabins.
Good value for money, clean & friendly Prospector Holiday Park is well-named, for as well as being Kalgoorlie's premier tourist park, it has its own stories to tell about Kalgoorlie's intrepid prospecting community and there is no better base from which to experience the excitement and history that have made Kalgoorlie a city of dreams and fortunes.
You'll find everything you need at Prospector with its spacious camp kitchen, children's playground, swimming pool, free BBQs, TV and Internet room and public phones. You can also purchase stamps, phonecards, ice, ice-creams and soft drinks from the office which is open daily from 7.30 a.m. to 6.30 p.m. We have plenty of tourist information available from the office staff who can also arrange tour bookings for you.
A lot of people tend to think that Kalgoorlie is in a desert region and that there won't be any trees or vegetation. It's a nice surprise to see so many trees in Prospector Holiday Park and so many shady powered sites. We have ample good sites for campers and campervans too, with plenty of sites around the large camp kitchen, and shade-cloth campsites that keep everything clean and neat.
A range of comfortable Cabin Accommodation is also available to suit all budgets, from large Family Cabins to Budget and Ensuite Rooms for singles.
Pets are welcome with site bookings only, and are not permitted in or around cabins. There is a charge of $1.00 per pet, per night. Ask about our VIP Discount Card! We look forward to welcoming you soon!"
View Larger Map
REGION: > WA > South East & Central > Goldfields > Kalgoorlie