Harbour View Caravan Park - Urangan Hervey Bay QLD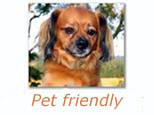 The Harbour View Caravan Park is located at 1 Jetty Road Hervey Bay. Your hosts are the John and Elizabeth Guest. The park is pet friendly. The park has 74 tourist sites and 70 of these are powered. This park is part of the Family Parks of Australia (FPA) network.
Photos on this page were kindly supplied by our roving reporter Alan Mitchell in April 2010.
Alan Mitchell who supplied the photos on this page writes: "We stayed at this park in December 2009 (Christmas Period) it is worth noting that all of the Esplanade Caravan Parks were "FULL" however this park had available sites for the three weeks that we stayed there.
The amenities are clean but a little run down (it would not cost much to do the minor repairs that are needed), the shower water temps need looking at e.g. Sometimes the hot water is hot and other times it is not even warm. The camp kitchen needs a good clean or at least the range and bbq could look better. All sites have a concrete pad for the annex area and concrete pads for the caravan/motorhome. The park is pet friendly although the pet friendly sites are all grassed sites. The pool is clean and well maintained.
The prices at the park for sites are very reasonable and a lot cheaper then the parks on the Esplanade. The staff are very friendly (they are not the owners).
REGION: > QLD > Central Coast > Bundaberg & Wide Bay > Urangan Hervey Bay