Peaceful Bay Caravan Park - Peaceful Bay WA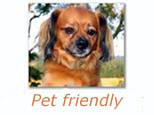 Peaceful Bay Caravan Park is located at 1 Peaceful Bay Road. Peaceful Bay has a population of 150 people and is located 456 km SE of Perth.
The park offers powered and un-powered sites, clean amenities, a well stocked mini mart with fresh bread, milk, papers, fishing bait & tackle, take away food and gas refills all set 100m from the swimming beach and boat launch.
Centrally located between Walpole and Denmark, Peaceful Bay Caravan Park is the perfect base for you to experience the best the region has to offer. Just minutes drive from attractions such as The Valley of The Giants Treetop Walk, Conspicuous Cliff, the Frankland River/Nornalup Inlet and delightful local restaurants.
But then again you just might be too pre occupied swimming in the pristine sheltered waters at Peaceful Bay, scooping Prawns and Blue Manner crabs out of the Irwin Inlet, surfing at Rame Head or wrestling a big dhufish off one of our prolific offshore reefs.
It doesn't take long for people to appreciate why Peaceful Bay is the perfect location for a holiday.
Bookings can be made by telephoning the park on 08 9840 8060 and please tell the park that you found them on Caravan Park Photos.
Photos on this page are from Peaceful Bay Caravan Park.
REGION: > WA > South Western > Great Southern > Peaceful Bay