Bucasia Beachfront Caravan Resort - Bucasia QLD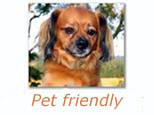 Bucasia Beachfront Caravan Resort is located at 2 Bucasia Esp - N , Bucasia. There are 48 powered but no unpowered sites available for caravans, campers and motorhomes. The park manager is Barbara Coleman. We would like to add more information to this description so if you have stayed at this park would you kindly add your own review and comments using the form below.
Photos on this page were kindly supplied by our roving reporter Ross Bignell in June 2014.

Rotate the Google Street View image below to see the location of the park. You can see street view in full screen by clicking the icon in the top right hand corner. Satellite view will also enable you to see the park within the context of the town. The green arrow marks the exact location of the site.
REGION: > QLD > Central Coast > Mackay & Whitsundays > Bucasia
Photos contributed by our users