A-Line Holiday Village - Big Hill VIC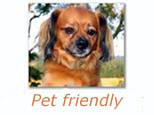 The
A-Line Holiday Village
is located at 5615 Calder Highway, Big Hill, Bendigo. The park is pet friendly. The park has 12 ensuite sites, 7 holiday units, 8 park cabins and one house for rent. The Resident Owners are the Stevenson family. Bookings can be made by
telephoning the park
and please tell the park that you have seen their photos on Caravan Park Photos.
Glenda Kriesfeld who supplied these photos writes: "Well, I went off with my 'van again, this time for five nights and was very pleased with my choice of park just outside Kangaroo Flat, Bendigo. The A Line Holiday Village was picture perfect, with beautiful shade trees and the greenest lawns I've seen in a long while. All amenities were better than I had anticipated for the rates they charge. There is a shopping village about two minutes down the Highway and the lovely old Kangaroo Flat Hotel, five minutes drive to a yummy two course home cooked meal at $11.00 per head! The park staff were very helpful with the 'beginner', giving me a drive through ensuite site. The road noise from the highway wasn't noticeable after a day or so settling in. This trip I actually figured out how to open the awning single handed....yes she is a REAL beginner! So much more relaxing when you invest in a comforatable chair to go under it as well..."
Photos on this page were supplied by the our roving reporter Glenda Kriesfeld in March 2010.
REGION: > VIC > Northern Victoria > Bendigo > Big Hill