Lake Navarino Forest Resort - Waroona WA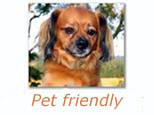 The Lake Navarino Forest Resort is located at 147 Invarell Road, Waroona. Waroona is 112km south of Perth and had a population of 1,900 people. There are 30 powered and 50 unpowered sites available for caravans, campers and motorhomes. The park has cottages and cabins also available for rent. There is a bunk hall available which is ideal for families and groups. Bookings can be made by telephoning the park on 08 9733 3000 and please tell the park that you found them on Caravan Park Photos.
Photos on this page were kindly supplied by our roving reporter Kerry Brierley in May 2012.
Rotate the Google Street View image below to see the location of the park. You can see street view in full screen by clicking the icon in the top right hand corner. Satellite view will also enable you to see the park within the context of the town.
View Larger Map
REGION: > WA > South Western > Heartlands > Waroona
Photos contributed by our users