Surat Caravan Park - Surat QLD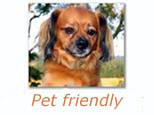 The Surat Caravan Park is located in 47 Burrowes Street Surat. Surat is located 450km west of Brisbane and has a population of 450 people. There are 12 powered and 6 unpowered sites available for caravans, campers and motorhomes. Bookings can be made by telephoning the park and please tell the park that you found them on Caravan Park Photos.
Founded in 1849 after Sir Thomas Mitchell passed through the area, Surat is also the site of the very last Cobb and Co. coach run. The Cobb & Co. Changing Station Complex in Surat incorporates the Cobb & Co. Store Museum, the Balonne River Gallery, the Balonne Freshwater Aquarium, the Warroo Shire Library and the Information Centre.
In days gone by, the building served as a change over station for travellers and their horses to refresh during long journeys. On display in the Cobb & Co. Store Museum are progressively changing displays depicting the lifestyles of yesteryear, giving you an insight into the area's social history. Also on display is a 14 seater working Cobb & Co. Coach.
Rotate the Google Street View image below to see the location of the park. You can see street view in full screen by clicking the icon in the top right hand corner. Satellite view will also enable you to see the park within the context of the town. The green arrow marks the exact location of the site.
View Larger Map
REGION: > QLD > Western > South Western > Surat