Pelican Rest Tourist Park - St George QLD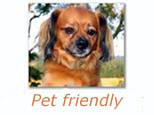 Pelican Rest Tourist Park is located at 12022 Carnarvon Hwy - S , St George. There are 43 powered and 11 unpowered sites available for caravans, campers and motorhomes. The park is a member of the Top Tourist Park Network. A good selection of cottages and cabins is available for rent to suit all budgets and needs. We would like to add more information to this description so if you have stayed at this park would you kindly add your own review and comments using the form below. Bookings can be made by telephoning the park on 07 4625 3398 and please tell the park that you found them on Caravan Park Photos.
Photos on this page are from Pelican Rest Tourist Park and from our roving reporters Sel Hardy in May 2013 and Alan & Jackie Mitchell in March 2014.
The following review has been kindly prepared by Alan and Jackie Mitchell:
A great place to stop and linger awhile.
The memories came flooding back as we entered the Pelican Rest Caravan Park just east of St. George, for it was way back in 2004 when we first drove into Pelican Rest Caravan Park, saw the kangaroos grazing next to the fence—(they were there again this time) and met its then owners Marg & John Poplawski, a delightful couple whose friendly attitude led us to staying three nights rather than the intended one night.
So, it was somewhat of a surprise to learn that Marg & John had sold their park to new owners Lorraine & Steve McNamara.
The McNamara's bought the park in January 2011 and it didn't take long to feel very much at home as they continued a tradition established all those years ago by the Poplawski's.
This is the McNamara's first tilt at owning a caravan park and their enthusiasm is clearly showing through in the park's presentation.
In the two years since Lorraine & Steve took over the Pelican Rest Caravan Park, they have upgraded all the previous self contained cabins and have built another two larger lodgings.
There are nice touches like the supplied floor towels for all of the showers, a spotlessly clean amenities block and large camp kitchen. "We are gradually making changes where we deem needed," Steve said.
Steve and Lorraine, both long time broadacre farmers from Temora in southern NSW where they farmed wheat, canola, cattle and sheep, had recently left the farming life and were at a stage in life where they weren't sure of what they wanted to do. "We had thought about returning to farming life—a Macadamia Farm looked good," said Steve, "but farming friends in Temora had recently sold their farm and had bought a caravan park at Dubbo in the central west of NSW, and these friends convinced them to 'have a look' at caravan parks and what was available."
"It was the best possible advice they could have given us," said Steve, "so we set off finding everything we could about which caravan parks were available."
"Our travels took us as far north as Charters Towers in Queensland, Charleville, Monto, Griffith, Young and several others. Ironically, it was this park, Pelican Rest which we came to first."
Marg and John Poplawski when they owned the park prided themselves as saying: "No rig too big", and with a drive-thru of some twenty metres x ten metres it's hard to imagine any rig as being "too big".
With the park being some six acres in total (34 acres all up including room for their horses), plenty of level shady spots, forty three powered sites including 14 drive-tru's—'we can take approximately fifty vans on powered sites'; eleven cabins seven with en-suites including two cabins with spas and two multi en-suite cabins. An amenities block which has five toilets and four showers (Male) and seven toilets and four showers (Ladies) plus the aforementioned floor towels (a nice touch) as well as disabled showers and toilets; a laundry with four commercial washing machines, two commercial dryers and two washing sinks, a huge camp kitchen complete with BBQ, microwave, fridge, toaster and kettle, with plans in the near future to put in a carousel and fire place and you soon get the picture that this IS the place to stay when in St. George, Qld.
"St. George is a great town," said Steve. "There's plenty to do, we have the fabulous Balonne River (discovered by explorer Thomas Mitchell on St. George's Day, April 23, in 1846) which is a great spot for Murray Cod or Yellowbelly fishing; the town is full of friendly people, there's three pubs in town, plenty of good restaurants, two supermarkets an IGA and Foodland, a lovely winery in Riversands Winery on the edge of town, the delightful St. George Heritage Centre, plus the Jacarandas in Spring make it a very special town to visit."
Coming up to three years' ownership in January next year, Lorraine and Steve two ex farmers from Temora, NSW, lovers of off road travelling with their van having travelled extensively around Australia, "I love the Flinders Ranges," Lorraine, and "the High Country in Victoria, Omeo" Steve, are making a real fist of things.
We wish them well.
Story & Pics, Alan & Jackie Mitchell.

REGION: > QLD > Western > South Western > St George
Photos contributed by our users