Flynns Beach Caravan Park - Port Macquarie NSW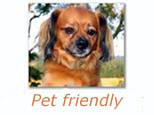 Flynns Beach Caravan Park is located at 22 Ocean Street, Port Macquarie. There are 22 powered and 19 unpowered sites available for caravans, campers and motorhomes. The park is in a quiet part of Port Macquarie. Eighteen cabins are availaile for rent including Ensuite cabins- Budget, Standard and Deluxe. The park has a nice pool and clean amenities. Bookings can be made by telephoning the park and please tell the park that you found them on Caravan Park Photos.
Recent photos and reviews on this page were kindly supplied by our roving reporter Shez Schubert in April 2015.

Rotate the Google Street View image below to see the location of the park. You can see street view in full screen by clicking the icon in the top right hand corner. Satellite view will also enable you to see the park within the context of the town. The green arrow marks the exact location of the site.
REGION: > NSW > North Coast > Mid North Coast > Port Macquarie
Photos contributed by our users