Bonus Downs Farmstay - Mitchell QLD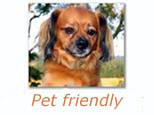 The Bonus Downs Farmstay is located at Bollon Road Mitchell. Bonus Downs, a privately owned property run by Lyle and Madonna Connolly, is the ultimate outback historical experience. Experience the magnificent Bonus Downs homestead, find yourself on a tranquil bushwalk or take in the day's activities. Whatever your interest, there is something for everyone at Bonus Downs. Bonus Downs offers good old fashioned hospitality in a friendly, relaxed atmosphere.
Bonus Downs is 46 kilometres south west of Mitchell on the Bollon Road, has bitumen to the door and is only half an hour from Mitchell. It has accommodation in the rustic Jackeroos Quarters. Camping is also available in the shearing shed or bring your own tent. The farmstay has powered and unpowered sites. Bookings can be made by
telephoning the park
and please tell the Farmstay that you have seen their information on Caravan Park Photos. This page was created on the 18 June 2010.
REGION: > QLD > Western > South Western > Mitchell