Karumba Point Tourist Park - Karumba QLD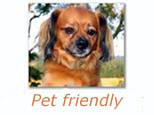 Karumba Point Tourist Park is located at 2 Col Kitching Dr - E , Karumba. Karumba is a town that lives and breathes fishing and prawning. Just 70km from Normanton, its lies on the Gulf of Carpentaria and the Norman River. There are 100 powered and 12 unpowered sites available for caravans, campers and motorhomes. On site accommodation is also available and may include cabins and on site caravans. Your hosts are Earle & Beth Atherinos. The park has a swimming pool and camp kitchen. We would like to add more information to this description so if you have stayed at this park would you kindly add your own review and comments using the form below. Bookings can be made by telephoning the park on 07 4745 9306 and please tell the park that you found them on Caravan Park Photos.
Photos on this page are from Karumba Point Tourist Park.
Rotate the Google Street View image below to see the location of the park. You can see street view in full screen by clicking the icon in the top right hand corner. Satellite view will also enable you to see the park within the context of the town. The green arrow marks the exact location of the site.
REGION: > QLD > Northern > Far North > Karumba