Hydeaway Bay Caravan Park - Hideaway Bay QLD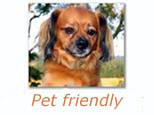 These photos were kindly supplied by Rosemarie Edwards who writes: "We stayed at a place called Hideaway Bay it is 12kms north of Proserpine.
After the turnoff the road is narrow bitumen and it has a couple of kilometers of dirt road but it is in very good condition,
It is worth the trip as it is so peaceful, close to the beach, and clean. When we went there it was NOT school or public holidays.
The Hydeaway Bay Caravan Park amenities are spotless as per photos and my husband said the men's amenities are the same very clean and the camp kitchen is great it even has a hungi.
The owners are lovely people, and are improving the park the whole time planting trees etc.
The park is also pet friendly which is what we look for in our travels, as we have a dog or should I say a little person.
There is a small shop at the office, they don't carry much, but enough to get you out of trouble, and it is only 6kms to Dingo Beach and they have a pub come store and they have meals etc.
We will be going back there again, and I recommend it for a peaceful, relaxing break".
Bookings can be made by telephoning the park on 07 4945-7170 and please tell the park that you have seen their photos on Caravan Park Photos. Photos on this page were supplied by our roving reporter Rosemarie Edwards in August 2009.
REGION: > QLD > Central Coast > Mackay & Whitsundays > Hideaway Bay