Glenron - Coolah NSW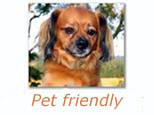 This caravan park has closed down. The photos are preserved online for historical purposes only.
"Glenron" 5 km Dunedoo side of Coolah on the Leadville/Dunedoo Road. We are a freestyle camp ground, meaning we don't have designated sites in rows or concrete slabs. You can camp anywhere. we have a number of 15A power outlets but generators OK.
The property is pet friendly. The property is run by Glenn and Rhonda Courtney. Bookings can be made by telephoning 02 6377-1741 and please tell the park that you have seen their photos on Caravan Park Photos. Photos on this page were supplied by the Caravan Park in March 2009.
We particularly want to encourage groups of caravans or motorhome travellers to stay. To keep things comfortable we only have half a dozen or so campsites occupied at any one time. Pets are fine, open fires are fine (in season) swimming in the dam is fine and we have full ablution facilities and loads of fresh and potable bore water.
We tend not to rely on rules and regulations for our travellers and commonsense seems to work pretty well here. We are a working property. Cattle etc are in close proximity to our camping paddock, and sometimes in it. Our guests don't seem to mind at all.
REGION: > NSW > Regional NSW > Central West Slopes > Coolah