Stuart Range Caravan Park - Coober Pedy SA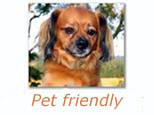 The
Stuart Range Caravan Park
is located at Hutchison Street Coober Pedy. The park has 134 tourist sites and all but 40 of these are powered. The park is pet friendly. Resident Managers are Paul Athanasiadis. Bookings can be made by
telephoning the park
and please tell the park that you have seen photos of their park on Caravan Park Photos.
Clare and Phil write: "Coober Pedy has several Caravan Parks and by far the best is Stuart Range Caravan and Tourist park situated 1km after turning of the Stuart Highway it is a member of Family Parks and offers a variety of sites from brick cabins, undercover powered sites, open covered power site and non powered sites.
Photos on this page were supplied by our roving reporters Clare and Phil Davis in April 2010.
It is child and pet freindly with excellent clean amenities, including undercover outdoor camp kitchen, swimming pool, childrens play area and good level sites.
As this is a remote site area do not expect grass but all sites are gravel and due to water supplys all powered sites do not have water to them, however on entering all leaving there is facilities to fill your tanks for 20c for 40ltrs.
As with showers they are 20c for 3 minutes, the park is approximately 1km to town and is very quiet of a night where as the others are in town and subject to the locals night noises, the park also offers an excellent 41/2 hour site seeing tour for $50 and is well worth the cost. Other park facilities available is its own Pizza palour and if you take your park reciept to the Caltex garage you will receive a 3c discount a litre off all fuels wich at the moment is 1.49c a litre.
As expected due to its remote locality and haulage charges groceries are expensive so top up before you arrive, the town has banks, post offic and many other required facilities to assist you in your travels."
REGION: > SA > Far North > Far North > Coober Pedy