Ferry Reserve Holiday Park - Brunswick Heads NSW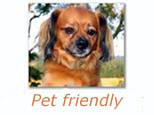 Positioned on the bank of the beautiful Brunswick River, just a 15 minute walk from the town centre, the
Ferry Reserve Holiday Park
is a great place to stay. Named for its location - the site where the first ferry was installed to cross the river, this park makes the most of its river and mountain views. Ferry Reserve Holiday Park has 5 cabins and 80 camp sites to choose from. The cabins have views across the pristine waters of the Brunswick River. Camp sites on the river bank for tents and campervans are very popular for both couples and families. Shaded areas and well-maintained gardens provide comfortable camping experiences and convenient access to all areas of the park. For a memorable holiday that all family members will enjoy, come to Ferry Reserve Holiday Park, Brunswick Heads, NSW. Bookings can be made by
telephoning the park
and please tell the park that you found them on Caravan Park Photos.
The Ferry Reserve Holiday Park - Brunswick Heads NSW is located at Riverside Crescent, Brunswick Heads. The park is pet friendly.
Positioned on the bank of the beautiful Brunswick River, just a 15 minute walk from the town centre, Ferry Reserve Holiday Park is a great place to stay. Named for its location - the site where the first ferry was installed to cross the river, this park makes the most of its river and mountain views.
Park guests have immediate access to fishing, kayaking, swimming, snorkelling and boating as all of the cabins and camp sites at this park are close to the river. For those who enjoy a surf, the patrolled beach at Brunswick Heads is just a 3 minute drive away or for the more energetic, a 20 minute walk.
Ferry Reserve Holiday Park has 5 cabins and 80 camp sites to choose from. The cabins have views across the pristine waters of the Brunswick River. Camp sites on the river bank for tents and campervans are very popular for both couples and families. Shaded areas and well-maintained gardens provide comfortable camping experiences and convenient access to all areas of the park.
Park guests make the most of the perfect location by enjoying boating and fishing and other water activities. The Park has its own boat ramp and there are two fish cleaning areas so there is no excuse not to enjoy freshly caught seafood every night of your holiday. Covered barbecues are conveniently located close to camp sites and all amenities are easily accessed.
Throughout the town there are a range of activities available that suits visitors on any budget. For the ocean lovers, why not take advantage of the fantastic surf conditions, the anglers and boaties may decide to head to the river which often offers an impressive catch for dinner. Brunswick River is renown as a great place for families to come together and spend time participating in a number of water activities including stand up paddle boarding, water sports, fishing and boating. The deep water of the main channel is the playground of many species of fish while Simpson's Creek, which is easily accessed from the Park, it has a variety of small, tropical fish making it excellent for snorkelling.
Activities are plentiful in Brunswick Heads and the office staff are more than willing to offer ideas and suggest ways in which to fill your days – if you are so inclined. Or pick up a flyer of 101 things to do in Brunswick Heads from the office.
REGION: > NSW > North Coast > Northern Rivers > Brunswick Heads