Blanchetown Caravan Park - Blanchetown SA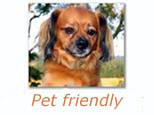 Blanchetown Caravan Park is located at River Dr - E , Blanchetown. The park writes: "Enjoy the tranquility of our park and the abundance of native birds. An easy place to relax enjoy the lovely weather, watching the magnificent sunsets and if you are an early riser the wonderful sunrises.
Our facilities include a swimming pool and toddlers pool for the enjoyment of all in summer, and a well stocked kiosk with take away food available. The riverfront is lawned with shelters and seating, and is the ideal place for picnics and water sports. Located 133 km north east of Adelaide, Blanchetown is a tiny township on the Murray River which was an important transportation centre during the nineteenth century. It is now a strange mixture of historic buildings and temporary shacks built by holidaymakers on the banks of the river. The Murray River at Blanchetown is only 3.6 m above sea level and it is 274 km from the sea.
Blanchetown is where the Murray River's lock and weir water flow management system starts. The system was constructed along the river in the 1920s and 1930s to help control the water level so that cargo and paddle steamers would always be able to navigate the waterways.
The old bridge in the town gives an excellent view of Lock 1 and circling above are hundreds of hungry pelicans that love to feed on the schools of fish near the spillway. Here you can also get a great view of the large riverboats that pull into Blanchetown weekly. Before the Bridge was built traffic crossed the River on a Ferry. The first Blanchetown bridge was opened in 1964 by Sir Thomas Playford. The bridge's main claim to fame is that it was the first major prestressed concrete girder highway bridge built in South Australia. It replaced the Blanchetown ferry crossing which had been used since 1869. It cost £510,000 to build". Bookings can be made by telephoning the park and please tell the park that you found them on Caravan Park Photos.
You can see satellite view in full screen by clicking the icon in the top right hand corner. Satellite view will also enable you to see the park within the context of the town. The green arrow marks the exact location of the site.
View Larger Map
REGION: > SA > Mid North > Clare Valley > Blanchetown
Contact and Location
Blanchetown Caravan Park
River Dr - E
Blanchetown SA 5357
P:
08 8540 5073
F: 08 8540 5377
GPS:
-34.342698,139.618688
GPS:S34 20 33,E139 37 07
GPS:S34 20.5619,E139 37.1213