Bells N Whistles Accommodation Park - Bell QLD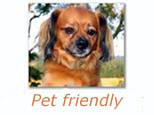 The Bells N Whistles Accommodation Park is located at 40 Cedarvale Road, Bell. Bell is a delightful country village nestled in the foothills of the Bunya Mountains in Southeast Queenland. The town is between Kingaroy and Dalby. The pictures of the caravan park were kindly provided to me by Peter & Helen Lambley who own and manage the park. Bell is a wonderful place to visit if you want to experience the history and beauty of a quaint, quiet, clean Caravan Park set in beautiful rural surrounds that promise great sunsets. I'll certainly be adding this one to my list.
Bell is the Gateway to the Bunya Mountains National Park. Local tourist attractions include Jimbour House Historic Homestead, Wineries and Bird Trails. The town has a Tourist Informaton Centre, Post Office/Shop, Cowbells Coffee Shop/Patchwork, Hotel and Clubs. Supervised pets are welcome in the park. Bookings can be made by
telephoning the park
and please tell the park that you have seen their photos on Caravan Park Photos.
Photos on this page were supplied by the Caravan Park in August 2008.
REGION: > QLD > Western > South Western > Bell