Wishbone Therapy Farm - Barkly VIC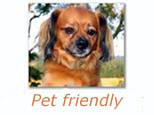 This caravan park has closed down. The photos are preserved online for historical purposes only.
Wishbone Therapy Farm is located on the 436 Landsborough-Barkly Road near the intersection of Redbank-Barkly Road. Access is on a sealed road and you should drive through Moonambel and then take the turn off to Barkly. Barkly is 232km north west of Melbourne. The farm is run by Sherry who has a great love of animals. She uses most of her resources and energy caring for them. At the farm you will find alpacas, horses, sheep, goats, dogs, a rooster and a pig that grunts most of the time. You can park your van or RV here for free in exchange for helping with some of the chores. Kids will find the place fascinating. Optus mobile reception is available. The entrance gate is fairly narrow so it is not suitable for large rigs.  However you can stay down the road a short way beside the community hall.
REGION: > VIC > South Western Victoria > Ballarat > Barkly